Young UK adults worry they won't afford family – survey
Individuals aged 16-25 are more unhappy and less confident than at any point since the Prince's Trust began measuring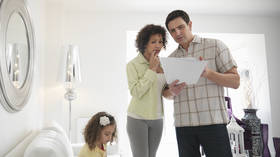 Nearly half (45%) of young adults aged 16 to 25 in the UK fear they will never make enough money to support a family, according to a report from the Prince's Trust charity published Monday. The figure increases to 53% among young people from more modest backgrounds.
Their concern seems to have affected long-term planning, with only 36% of respondents telling the charity their biggest goal was having a family. Much more popular, with 64% of the responses, was achieving financial security. Another 43% picked good mental health as their primary goal.
As for how to achieve that goal, 70% of respondents said having a job that provides financial stability was good for their mental health, and 59% said merely being employed no matter the salary improved their mental state.
The biggest worry for the age group, named by 57% of respondents, was the cost-of-living crisis. Another 34% cited the looming recession – predicted by a growing majority of economic experts worldwide – as their chief concern.
General happiness and confidence among this age group were at lower levels than any time since the Trust began polling amid the financial crisis of 2008. While 70% of young people said they are "determined to achieve their goals in life," 36% of low-income respondents expressed worry they were going to "fail in life," and almost half (46%) said economic uncertainty made them feel "hopeless" about the future. That number climbed to 55% among low-income youth.
Mental health issues have become the norm, with 45% reporting having experienced a mental health problem at some point. Some 56% reported being anxious most or all of the time and 62% said they were always or often stressed.
UK Chief Executive of the Prince's Trust, Jonathan Townsend, described the survey results as "a warning sign that, post pandemic, young people's wellbeing has not recovered." Referring to the age group as the "Class of Covid," he remarked that "economic uncertainty is having a profound impact on their wellbeing and confidence in achieving their aspirations for the future."
You can share this story on social media: