Beijing highlights US role in Ukraine conflict
Washington instigated the crisis and is pushing for it to rage on, the foreign ministry has said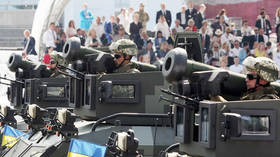 The US is the "initiator and biggest promoter" of the crisis in Ukraine, Beijing has said, commenting on Washington's reported claims that state-run Chinese companies were providing non-lethal aid to Russia.
If the US government actually wants to help the Ukrainian people and see the crisis end as soon as possible, it should "stop sending weapons and reaping the benefits of war," Chinese Foreign Ministry spokeswoman Mao Ning said on Monday during a news briefing.
She dismissed the claims of assistance to Moscow, which were reported in the Western media last week, as "unfounded suspicion and accusations" and said Beijing would not accept "groundless blackmail" or discrimination against Chinese companies by Washington.
The reports were based on an anonymous source described by Reuters as "familiar with the situation."
"What we're seeing is non-lethal military assistance and economic support that stops short of wholesale sanctions evasion," the source was quoted as saying. The person added that Washington was not sure if the Chinese government was aware of the "activity" and that it had communicated its concerns to Beijing.
The US government publicly threatened China with consequences for any assistance to Russia in circumvention of the economic sanctions imposed by Washington and its allies.
When asked about the alleged assistance last Tuesday, White House press secretary Karine Jean-Pierre said the US was "monitoring the situation" and would "continue to communicate to China the implications of providing material support" to Russia. She pledged that the US would support Ukraine for "as long as needed." Washington has already allocated over $100 billion related to propping up Kiev in its fight against Moscow.
Beijing has criticized Russia for sending troops against its neighbor but has said that the stage for the conflict was set by NATO's expansion in Europe and its refusal to acknowledge Russia's security concerns.
You can share this story on social media: