Germany warns against 'competition' over Ukraine aid
Olaf Scholz has said recurring speculation about new weapons deliveries erodes the public's confidence in the government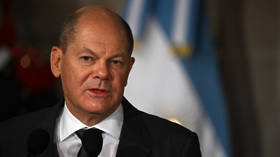 German Chancellor Olaf Scholz has voiced discontent over constant debates about Western arms deliveries for Ukraine, claiming that they undermine authorities' credibility in the eyes of ordinary citizens.
In an interview published on Sunday by Tagesspiegel newspaper, Scholz was asked to comment on Ukraine's demand for Western warplanes, which came after the US and Germany approved the delivery of M1 Abrams and Leopard 2 tanks, respectively.
Despite France and the US not ruling out such assistance, the chancellor stated that for Germany "the question of combat aircraft does not arise at all."
"I can only advise against entering into a constant outbidding competition when it comes to weapon systems," Scholz said. According to him, as soon as Berlin makes a decision on a weapons shipment to Ukraine, "the next debate begins in Germany."
These kinds of public deliberations "do not seem serious and shake the confidence of the citizens in government decisions," the chancellor said, arguing that "such debates should not be conducted for reasons of domestic political profiling."
He also pushed back on the notion that Germany would eventually cave in to pressure to deliver fighter planes, as it did with tanks.
"It wasn't like that, I expressly don't share your account. We are always guided by what Ukraine needs on the one hand and what our most important allies can provide on the other hand," Scholz stressed, reiterating Germany's position that when it comes to helping Ukraine, Berlin does not act alone, but "together with its allies and partners."
Ukraine has repeatedly called on Western countries to support it with modern Western-made jets, but no country has so far indulged the request.
While Germany has provided Ukraine with numerous military assets to fight Russia, also promising to send fourteen Leopard 2 tanks, Berlin has signaled that it does not plan to supply Kiev with modern warplanes.
German Defense Minister Boris Pistorius explained that "fighter aircraft are much more complex systems" than tanks and have "a completely different range and firepower." Such a delivery would "venture into dimensions that I would currently warn against," he said.
Russia has repeatedly warned the West against furnishing Ukraine with more weapons, arguing it will only prolong the conflict. Last month, Russian Foreign Minister Sergey Lavrov said the West had been "directly involved" in the Ukraine conflict by providing weapons and training its military personnel outside the country.
You can share this story on social media: