Eight killed in Jerusalem terrorist attack
Gunman reportedly opened fire on Jews leaving evening prayers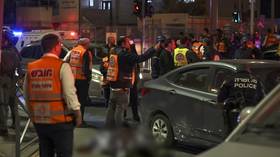 At least eight people have been killed and ten more wounded in a shooting at a Jerusalem synagogue on Friday evening, Israeli media reported. The attacker was killed by security forces while attempting to escape.
The armed assault took place in the Neve Yaakov neighborhood of Jerusalem, in the territory claimed by the Palestinian Authority. At least five people were confirmed dead at the scene. Five of the wounded were taken to area hospitals in critical condition.
Police identified the attacker as Fadi Ayesh, a member of Hamas who lived in the East Jerusalem neighborhood of Shuafat. Ayesh opened fire on the Ateret Avraham synagogue from a handgun, then fled towards the Palestinian neighborhood of Beit Hanina. He allegedly fired at the officers who responded to the scene and was fatally shot by their return fire, according to the Times of Israel.
Prime Minister Benjamin Netanyahu was briefed on the situation and reportedly called for a "situational assessment" meeting later in the evening. Opposition leader Yair Lapid sent condolences to the families of the victims and called for terrorism to "be dealt with harshly," according to the Jerusalem Post.
The attack followed the funerals of nine Palestinians killed in clashes with Israeli troops in the refugee camp in Jenin, in what AP described as "the deadliest West Bank raid in years."
Following Thursday's firefight, Palestinian militants in Gaza fired rockets into Israel, while the Israeli military launched air strikes against the enclave.
You can share this story on social media: