Biden names new chief of staff
Former Covid response chief Jeff Zients is now the president's most senior confidant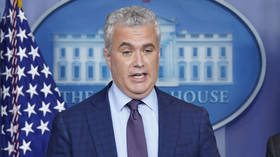 US President Joe Biden has named former coronavirus response coordinator Jeff Zients as his new chief of staff. A longtime Obama-Biden operative, Zients takes over from Ron Klain, who has worked in every Democratic administration since the 1990s.
In a statement on Friday, Biden said Zients has a record of tackling "some of the toughest issues in government," and would implement "the laws we've gotten passed efficiently and fairly."
Zients already worked in the Biden administration, co-chairing his transition team after the 2020 election and taking charge of the administration's vaccine rollout as Biden's coronavirus response coordinator until last April.
Beforehand, Zients served as the director of the Office of Management and Budget under Barack Obama between 2012 and 2013, and directed the National Economic Council between 2014 and 2017. He joined Facebook's board of directors in 2018, before resigning in 2020.
His new position is a powerful one. As White House chief of staff, Zients will be in charge of hiring decisions within Biden's office, and will set the president's schedule, determine who has access to the president, and serve as the president's closest adviser, meeting daily with Biden.
Zients takes over from Ron Klain, who before serving as Biden's chief of staff held the same position under Biden and Al Gore when both were vice presidents. Like Zients, Klain also oversaw a White House response to a deadly disease, leading the Obama administration's Ebola campaign in 2014.
News of Klain's resignation was first broken by the New York Times last week, a day after federal investigators seized a fourth batch of classified documents allegedly mishandled by Biden. While the Justice Department has opened a probe into Biden's handling of the secret files – some of which reportedly contained information on Iran and Ukraine – the 80-year-old president is still apparently planning on running for re-election in 2024.
In an official resignation letter addressed to Biden on Friday, Klain said he would do "whatever I can to help your campaign" in 2024.
You can share this story on social media: