Urgent health warning issued in Australia
Radioactive material, capable of causing acute sickness, has been lost in the west of the country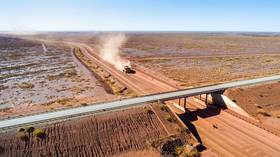 Authorities in Western Australia (WA) issued an emergency health alert on Friday, warning about a capsule emitting a "reasonable" amount of radiation that has been lost in the area. The WA chief health officer, Andy Robertson, urged people to stay away from the object if they find it.
"As a source, it emits both beta rays and gamma rays. So if you have contact or have it close to you, you could either end up with skin damage, including skin burns, over a period of time," Robertson said, adding that "one of the long-term risks if exposed to a source like this is cancer."
The capsule in question is a tiny object six millimeters long and eight millimeters high, or smaller than Australia's ten-cent coin. It is believed to have fallen from a truck traveling on a 1,400-kilometer-long highway between a mine near the city of Newman and a depot in south-western city of Perth.
The capsule, which was reportedly lost on January 10, emits an amount of radiation equivalent to ten X-rays in an hour within a distance of 1 meter. That is roughly the amount of natural radiation a person is exposed to over the course of a year.
Authorities are urging all motorists who traveled along the highway after January 10 to check their tires in case the capsule is lodged in a tread. Australia's Department of Fire and Emergency Services (DFES) said that the item cannot be weaponized, but recommended people to stay at least five meters away from anything that resembles the capsule and to immediately contact them.
"The capsule remains unfound," DFES Country North chief superintendent David Gill said on Friday, adding that searching for such a tiny object in an area spanning over 1,400 kilometers does pose "challenges."
You can share this story on social media: