US should 'liberate Canada from Trudeau' – Tucker Carlson
The Canadian prime minister leads an "authoritarian government," the Fox News host declared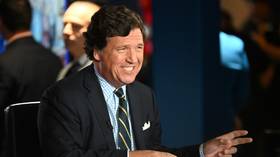 The US should send troops across its northern border to "liberate" Canada from under the yoke of Justin Trudeau, Fox News host Tucker Carlson has claimed on his daytime TV show. Trudeau, who ordered a draconian crackdown on anti-lockdown protesters last year, is letting his country "become Cuba," Carlson added.
"I'm completely in favor of a Bay of Pigs operation to liberate that country," he said on Thursday's episode of 'Tucker Carlson Today', referring to the failed CIA-backed attempt to overthrow Cuba's communist government in 1961.
"Why should we stand back and let our biggest trading partner, the country with which we share the longest border… why should we let it become Cuba?" Carlson continued. "Like, why don't we liberate it?"
"We're spending all this money to liberate Ukraine from the Russians, why are we not sending an armed force north to liberate Canada from Trudeau?" he asked, before laughing and saying that he had talked himself "into a frenzy."
Carlson is noted for his deadpan humor, but the Fox host is also a fierce critic of Canada's liberal leader. He slated Trudeau for introducing emergency powers last February enabling him to – among other things – seize the bank accounts of truckers protesting against his government's hugely controversial vaccine mandate.
"Justin Trudeau is the dictator of Canada," he said at the time. "If you think that's an overstatement, try to think of another way to describe what Justin Trudeau is now doing."
Carlson has also been a persistent critic of the Biden administration's Ukraine policy – which has seen Washington spend more than $110 billion propping up Vladimir Zelensky's economy and military with bailouts and progressively heavier armaments. The conservative pundit has insisted that American money would be better spent fixing the US economy and border, and that Zelensky is attempting to drag the US into an open war with Russia.
You can share this story on social media: