Thousands of Italians sign-up against Zelensky speech
The actor-turned-president is due to speak at the country's biggest song competition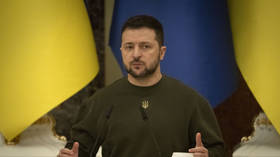 Tens of thousands of Italians have signed a petition protesting Ukrainian President Vladimir Zelensky's planned address at a Eurovision-style song contest. Deputy Prime Minister Matteo Salvini told reporters that the event "should remain the festival of Italian song and nothing else."
The petition, which blames the Ukrainian conflict on NATO and on Kiev's "brutal repression" of Russian-speakers in Donbass, has gained around 33,000 signatures, Reuters reported on Friday morning.
It calls on the organizers of the Sanremo Music Festival – a Eurovision-style contest held every year since the 1950s – to withdraw their invitation to Zelensky, who is set to speak via video link on the final night of the contest on February 11.
"Zelensky? I don't know how he sings," Salvini told journalists on Thursday. "If I have time to watch [state television] it will be to listen to songs, not to listen to anything else."
Salvini said that while he supports the "Western position" on the conflict, the stage at Sanremo should "remain reserved for music."
Former lawmaker Alessandro Di Battista is organizing a "counter-festival" to protest Zelensky's appearance, Italy's Il Post newspaper reported, while Gianni Cuperlo of the center-left Democratic Party declared that the Sanremo festival organizers shouldn't "confuse" politics with entertainment.
In the 11 months since Russia's military operation in Ukraine began, Zelensky has been on a PR blitz in the West. The former actor and comedian has addressed the Glastonbury music festival in the UK, spoken at the Cannes and Venice film festivals, and earlier this month appeared at the Golden Globes, all via video link from Kiev.
Zelensky himself requested permission to speak at Sanremo, Il Post reported.
Support for Zelensky and NATO's efforts in Ukraine is lower in Italy than in most Western European countries. According to a poll published earlier this month, 50% of Italians oppose their country's arms shipments to Kiev, while around the same number favor a quick end to the conflict, even if that involves Ukraine conceding lost territory.
Nevertheless, Prime Minister Giorgia Meloni has pledged her "full commitment to supporting the Ukrainian cause."
You can share this story on social media: