White House estimates chances of Russia attacking NATO
There is "absolutely no indication" that Moscow is planning to strike the US-led military bloc, Washington says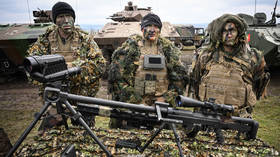 NATO countries are not in danger of being attacked by Russia, US National Security Council spokesman John Kirby said on Wednesday.
Speaking at a regular press briefing, Kirby was asked whether the US-led military alliance has enough troops to repel a possible Russian strike on its eastern flank in case of a major escalation in the Ukraine conflict.
"All I can tell you is we've seen absolutely no indication that [Russian President Vladimir] Putin has designs on striking NATO territory," the spokesman said, while stressing that US President Joe Biden is taking Washington's Article 5 commitments "seriously." He was referring to the principle that an attack on one member is an attack on the entire alliance.
Kirby noted that Washington has deployed an additional 20,000 US service personnel in Europe, bringing their total number to 100,000. He added that NATO is "confident that we have the capability, the energy, the talent, the manpower, the resources to meet our Article 5 commitments."
Russia has consistently described the US military presence on NATO's eastern flank as a threat. In late October, Kremlin Press Secretary Dmitry Peskov warned that "the closer American troops are to our borders, the greater danger we are in."
Kirby also said the US is paying attention to the red lines drawn by Moscow in Ukraine, adding: "We don't just take anything for granted when they say it. And we're not dismissive."
In the autumn, Russia's Foreign Ministry warned Washington that deliveries of long-range weapons to Kiev would cross a "red line" and make America "a direct party to the conflict." On Tuesday, Dmitry Polyansky, Moscow's First Deputy Permanent Representative to the UN, suggested that while the West has disregarded some of Moscow's warnings, "it is possible that the most red [lines] have not been crossed yet".
However, on Wednesday, Russia's Foreign Ministry said that all "talk about red lines has become a thing of the past," pointing to the ongoing "hybrid war" waged by the West against Russia in Ukraine.
"The United States has unequivocally declared that it seeks to inflict a strategic defeat on Russia. It's impossible to ignore reality," the ministry added.
You can share this story on social media: