UK jets for Ukraine not on the table – Telegraph
Supplying Kiev with Typhoon warplanes is seen as "too escalatory," the paper's sources say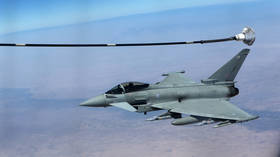 The UK has no plans to send its advanced fighter jets to Ukraine due to concerns that such a move would lead to an escalation of the conflict between Moscow and Kiev, The Telegraph reported on Wednesday, citing sources.
On Wednesday, following a decision by Germany and the US to supply Ukraine with modern Western-made main battle tanks, President Vladimir Zelensky doubled down on his request for armaments, also asking Western backers for long-range missiles and jets.
However, according to Royal Air Force sources cited by The Telegraph, sending aircraft to Kiev "was seen as being too escalatory" by the UK authorities.
A source also told the outlet that training on UK Typhoons "would likely take years," given that Ukraine flies Soviet-era aircraft. "The only option would be for nations with former Russian aircraft to offer such aircraft, such as Poland," he added.
While London has "not ruled out" providing Ukraine with longer-range precision missiles, Telegraph sources cautioned that such a step is not being "considered" right now.
Last week, the Dutch government said it was ready to consider deliveries of F-16 fighters to Ukraine with an "open mind." Later, Prime Minister Mark Rutte said the issue was currently off the table, but that nothing could be ruled out.
On Wednesday, German Chancellor Olaf Scholz announced that his country would send 14 Leopard 2 tanks to Ukraine, and was "acting in a closely coordinated manner internationally." On the same day, US President Joe Biden said Washington would supply Kiev with 31 Abrams main battle tanks, portraying them as a "defensive" weapon and not a threat to Russia.
Russia's ambassador to Germany, Sergey Nechayev, said the delivery of Leopard 2 tanks clearly shows that Germany and its closest allies are not interested in a diplomatic solution in Ukraine but will continue the "unlimited pumping" of Ukraine with "new deadly weapons."
Moscow has repeatedly warned the West against providing Ukraine with weapons, arguing that it would only prolong the conflict. Anatoly Antonov, Russia's ambassador to Washington, described the upcoming tank deliveries as "another blatant provocation," claiming that NATO weaponry "without any doubt will be destroyed."
You can share this story on social media: