Mail-bomb spree suspect arrested in Spain
Six explosive packages were sent late last year to different recipients, including the Ukrainian embassy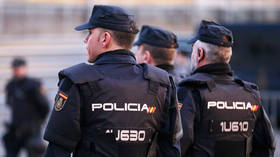 Spanish authorities have arrested an elderly suspect allegedly behind a mail-bomb campaign late last year, which resulted in an employee at the Ukrainian embassy sustaining a minor injury. Earlier this month, The New York Times claimed that Russia had directed the perpetrator – which Moscow dismissed as a complete fabrication.
On Wednesday, Spain's La Sexta TV channel reported that the suspect, a 74-year-old retiree from the northern province of Burgos, is reportedly not known to be a member of any political group. He will be brought before a judge next Friday, according to the broadcaster.
The report claimed that authorities had managed to obtain valuable clues from a parcel sent to the European Union Satellite Center at Torrejon Air Base. Since the bomb did not go off, police managed to collect the suspect's DNA and a sample of his cursive, the article suggested. It was the handwriting that led officials to believe that the perpetrator might be a senior, La Sexta revealed.
Moreover, the envelope itself was apparently peculiar. Police went on to analyze CCTV footage from the Post Offices from which the packages had been mailed, and also checked all the recent buyers of the particular envelope. All these efforts enabled investigators to pinpoint the likely suspect, the report said.
Over the weekend, The New York Times ran a report claiming that Moscow had orchestrated the bombing campaign, by directing a "white supremacist militant group." The Russian embassy in Spain was quick to rubbish the publication as having published a "fantasy," pointing out that the article presented no evidence.
The attacks in question happened in late November and early December 2022. The particular incident that attracted much media attention saw an explosive parcel arrive at the Ukrainian diplomatic mission in the Spanish capital. An employee sustained minor injuries as a result.
Letter bombs were also sent to the US embassy in Madrid and to Prime Minister Pedro Sanchez's residence, as well as to Spain's Defense Ministry, a satellite center at Torrejon Air Base, and to the Instalaza arms factory in Zaragoza, which manufactures grenade launchers intended for Ukraine.
Media reports suggested at the time that Spanish police believed a single person was behind the terror campaign as opposed to a group. At the time, officials also reportedly ruled out the involvement of Russian intelligence services.
You can share this story on social media: