'Genocide' survivors sue Myanmar
The Fortify Rights NGO is leading an effort to have the military tried for alleged war crimes under universal jurisdiction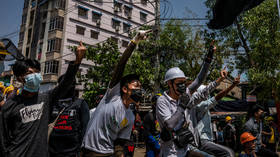 A total of 16 survivors and witnesses of ethnic violence in Myanmar have sued several senior figures in the country's military, alleging crimes against humanity including genocide.
They filed the complaint on Friday in partnership with NGO Fortify Rights in German federal court, citing the principle of universal jurisdiction, which allows mass atrocities in one country to be prosecuted anywhere.
"The complaint provides new evidence proving that the Myanmar military systematically killed, raped, tortured, imprisoned, disappeared, persecuted, and committed other acts that amount to genocide, crimes against humanity, and war crimes," Fortify Rights CEO Matthew Smith told reporters on Tuesday.
The group claims to have "substantial evidence" that senior military officials knew about the atrocities their subordinates were committing but allowed them to continue. The complaint urges Germany to open a "structural investigation" into the situation in Myanmar, which could lead to further allegations.
The plaintiffs are civilian members of ethnic groups including the Rohingya, Karen, Bamar, Chin, and Arakanese people. Some are survivors of the initial crackdown on Rohingya Muslims in 2017, while others suffered under the alleged atrocities committed after the military coup in 2021.
"This will be the first universal jurisdiction complaint which will talk about crimes against many ethnic groups and that is what makes this a really unique effort towards justice and accountability," Fortify Rights' Pavani Nagaraja Bhat told The Guardian, accusing the Myanmar military of "violating rights across the country."
Fortify Rights' case joins a number of legal proceedings against the junta, including universal jurisdiction cases filed in Türkiye and Argentina, a genocide case filed in the International Court of Justice, and a case in the International Criminal Court.
According to the Assistance Association for Political Prisoners, thousands of people have been killed or arrested since Myanmar's military seized power in 2021 and jailed leader Aung San Suu Kyi, whose reelection it claimed was fraudulent. While the coup leader promised to repatriate the Rohingya refugees who had fled to Bangladesh when their villages were destroyed in 2017, who number more than 700,000 according to the UN, international observers have argued it is not yet safe for them to return.
Myanmar's military has long denied committing atrocities, insisting with regard to the Rohingya situation that it was merely responding to "terrorist" attacks on police posts.
You can share this story on social media: