Germany advises allies on Leopard tanks
Would-be donors can train Ukrainian troops while they wait for Berlin's consent to deliver the vehicles, a minister suggests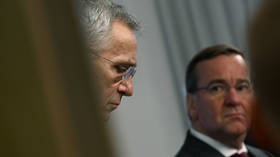 Germany's new defense minister has said countries in possession of Leopard 2 main battle tanks should start training Ukrainian troops on how to operate them, even though Berlin has yet to make a decision on whether to send its own to Kiev.
"We are not stopping anyone" wishing to prepare the tanks for transfer, Boris Pistorius stressed during a joint press conference with NATO Secretary General Jens Stoltenberg in Berlin on Tuesday.
The minister explained that Berlin is looking at its own fleet of Leopard 2s, but it is "not just a matter of counting the tanks, we know how many we have… We need to look at the potential that the industry has, the stocks that they have, and of course compatibility" of different models and spare parts.
Stoltenberg welcomed the remarks, expressing confidence that "we will find a solution soon" and reiterating the urgency of arming Ukraine.
"We must provide heavier and more advanced systems to Ukraine and we must do it faster," the NATO chief said. However he defended Germany from criticism over its delay in handing over the tanks.
Stoltenberg hailed Berlin's role as a major provider of military assistance to Kiev, declaring that "weapons from Germany are saving lives in Ukraine every day." He also said that other defense systems pledged by Germany and other donors would be a "huge additional contribution to the combat capabilities of Ukraine."
Some NATO members, including Poland, have blasted the government of Chancellor Olaf Scholz for its reluctance to allow the transfer of German-made battle tanks to Ukraine. Warsaw has indicated it is ready to send its tanks without Berlin's consent, but both Pistorius and Stoltenberg insisted that the dispute is not a sign of disunity in the US-led alliance.
NATO members have been arming Ukraine against Russia for the past 11 months, claiming the weapons will help Kiev retake lands it has lost in the conflict. The Russian government has accused the US and its allies of prolonging the conflict by stopping Ukraine from signing a truce with Russia.
The Kremlin has repeatedly insisted that Moscow will achieve its goals, as they are essential for its national security, regardless of how much help Ukraine receives.
You can share this story on social media: