US VP cuts Declaration of Independence in pro-choice speech
Kamala Harris appeared to deliberately omit 'life' from 'life, liberty and the pursuit of happiness'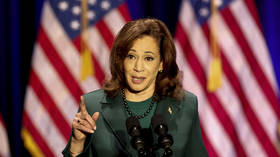 US Vice President Kamala Harris left out Americans' right to life from the Declaration of Independence in a speech commemorating the 50th anniversary of Roe v Wade, the 1973 Supreme Court decision that made abortion a federally-protected right prior to its reversal last year.
"America is a promise…of freedom and liberty," Harris told the audience at Moon nightclub in Tallahassee on Sunday. "A promise we made in the Declaration of Independence, that we are each endowed with the right to liberty and the pursuit of happiness."
The world-famous passage actually states that it is the "right to life, liberty and the pursuit of happiness" that all men are endowed with.
Harris took aim at the text of the national anthem next.
"America is the land of the free and the home of the brave," she said. "But let us ask, can we be truly free if a woman cannot make decisions about her own body? Can we truly be free if the doctor cannot care for her patients? Can we be truly free if families cannot make intimate decisions about the course of their own line?"
And can we truly be free if so-called leaders claim to be, quote, I quote, 'on the vanguard of freedom', while they dare to restrict the rights of the American people and attack the very foundations of freedom?
The 'vanguard of freedom' quote was a dig at Florida Governor Ron DeSantis, who used the phrase in his inaugural address earlier this month and has described his legislative agenda as a "blueprint for freedom."
Protests have raged ever since Roe v. Wade was overturned in a June Supreme Court decision, thus kicking responsibility for regulating abortion down to the states. While Harris warned her audience that Republicans were coming for their reproductive rights with a "nationwide abortion ban," no such bill has been introduced in Congress. Sen. Lindsey Graham (R-SC) did introduce a bill banning abortions past 15 weeks, however, and a similar ban took effect in Florida in July.
Then-candidate Joe Biden also botched the Declaration of Independence while on the campaign trail in March 2020, telling a Texas audience, "We know these truths to be self-evident: all men and women are created equal, by the, you know, the thing."
You can share this story on social media: