Former FBI agent arrested over ties to Russian tycoon
The accused was allegedly paid by Oleg Deripaska to investigate a rival businessman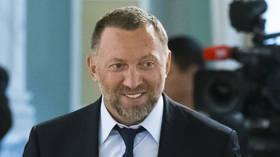 Former FBI agent Charles McGonigal has been arrested and charged with helping Russian billionaire Oleg Deripaska evade US sanctions, and taking money to investigate one of the tycoon's rivals.
McGonigal, a former counterintelligence agent responsible for investigating Russian "oligarchs," was arrested in New York on Saturday, the US Department of Justice said in a statement on Monday. McGonigal was detained along with Sergey Shestakov, a former Soviet and Russian diplomat and court interpreter.
McGonigal and Shestakov allegedly provided "services" to Deripaska in 2021, while the latter was under US sanctions. The pair allegedly agreed to investigate a rival Russian businessman in exchange for payments from Deripaska, which they received through shell corporations.
According to court documents, McGonigal earned an initial payment of $51,000 and three monthly payments of $41,000 for working for Deripaska in 2021.
McGonigal and Shestakov also lobbied unsuccessfully to have sanctions against Deripaska lifted in 2019 and when questioned on their relationship with the tycoon, Shestakov made false statements to FBI agents, the Justice Department claimed.
The two men have been charged with conspiring to violate and evade US sanctions, violating the International Emergency Economic Powers Act (IEEPA), money laundering, and conspiracy to commit money laundering. Shestakov faces an additional charge of making false statements.
Deripaska was sanctioned under the IEEPA in 2018. This Cold War-era legislation was invoked by Barack Obama in 2014 to block the property of anyone deemed to be "responsible or complicit in actions or policies that threatened the security, sovereignty or territorial integrity of Ukraine, or who materially assist, sponsor or provide support for individuals or entities engaging in such activities" – giving Washington a wide net to cast in sanctioning Russian targets.
The Russian billionaire and founder of aluminum giant Rusal was indicted in the US in September on sanctions violations, though no attempt has been made to extradite him. Deripaska was charged with hiring a woman to sell his California music studio and of attempting to send his girlfriend to the US to give birth to his child.
According to a separate indictment unsealed by the US Attorney's Office in Washington on Monday, McGonigal allegedly received $225,000 in cash between 2017 and 2018 from an employee of a foreign intelligence service. According to ABC News, this unnamed spy is described as an Albanian national working for a Chinese energy conglomerate.
You can share this story on social media: