EU nation draws red line for Russia sanctions
Budapest would oppose any attempt to block its nuclear cooperation with Moscow, Foreign Minister Peter Szijjarto said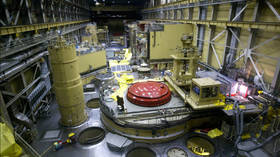 Cooperation with Russia on nuclear energy is essential for Hungary and Budapest would oppose any proposal to introduce sanctions on the partnership, Foreign Minister Peter Szijjarto has pledged.
"We will never accept a single decision that would limit nuclear cooperation with Russia, no matter how small, because it would put our national energy security at risk," the top diplomat said on Monday during a press conference in Brussels. The official was speaking to the media after a meeting of EU foreign ministers.
Szijjarto noted that Ukrainian Foreign Minister Dmitry Kuleba, who attended the event virtually, "demanded that the Russian nuclear sector be sanctioned." Some member states support the idea, according to Szijjarto, but Hungary would not accept it.
The Paks nuclear power plant accounts for half of the electricity generated in Hungary and covers a third of its domestic demand, the minister reminded everyone. If anti-Russian sanctions were to stall plans to expand the facility, the country's energy supply for the following decades would not be guaranteed, he added.
The plant, which is the only of its kind in the country, was commissioned in the early 1980s and uses Soviet nuclear technology. Hungary wants to more than double its capacity with two new reactors, built by Russia.
Szijjarto said he had informed the European Commission about Budapest's uncompromising position. The measures that the body would include in the 10th package of anti-Russian sanctions are yet to be shared with national governments, possibly as soon as the second half of this week, he revealed.
Hungary hopes the new restrictions would not make the EU "rush further into the dead end" the minister added. Szijjarto reiterated his government's assessment that the sanctions have been a failure because they failed to stop the conflict in Ukraine and hurt those who imposed them more than they did Russia.
You can share this story on social media: