US military probes cancer cases at nuclear missile base
A number of officers who had worked at the site ended up being diagnosed with lymphoma, one of whom has died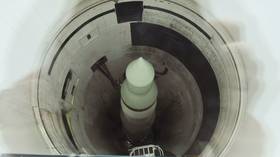 The US military is probing nine blood cancer cases among officers who worked decades ago at Malmstrom Air Force Base, a major nuclear missile site in the state of Montana. The investigation was first reported by AP on Monday and confirmed by Pentagon officials.
All of the afflicted officers had been serving at the silos of the base, home to some 150 Minuteman III nuclear-tipped intercontinental ballistic missiles, as many as 25 years ago. The diagnosis in each case was non-Hodgkin lymphoma, while one of the officers has succumbed to the illness.
"There are indications of a possible association between [this] cancer and missile combat crew service at Malmstrom AFB," Lieutenant Colonel Daniel Sebeck said in the slides presented at a military briefing earlier in January and cited by the news agency.
"Missileers have always been concerned about known hazards, such as exposure to chemicals, asbestos, polychlorinated biphenyls, lead and other hazardous material in the work environment," he stated.
The "disproportionate number of missileers presenting with cancer, specifically lymphoma" was particularly concerning, Sebeck added. The issue is important to the Space Force because as many as 455 former missileers are now serving with the Space Force, including four individuals diagnosed with lymphoma.
Reached by AP for comment, Sebeck declined to elaborate further on the probe, noting only that the slides were "predecisional." Meanwhile, Air Force spokeswoman Ann Stefanek confirmed that "senior leaders are aware of the concerns raised about the possible association of cancer related to missile combat crew members at Malmstrom AFB."
"The information in this briefing has been shared with the Department of the Air Force surgeon general and our medical professionals are working to gather data and understand more," she added.
Given that only some 400 officers are believed to work with siloed missiles at the base at any one time, the rates of non-Hodgkin lymphoma in them appear to be way above what is registered in the general population. According to the American Cancer Society, the illness afflicts only some 19 people out of every 100,000 across the US annually.
You can share this story on social media: