House crickets allowed as food in EU
A European Commission ruling permits the insects in defatted and powdered form to now be added to pizza and pasta-based products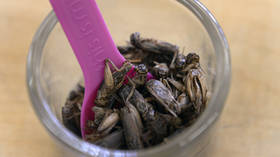 Partially defatted and powdered house crickets will officially be able to find their way to EU citizens' tables starting on January 24. This comes thanks to a European Commission ruling passed earlier this month.
As per the decision, which cited the scientific opinion of the European Food Safety Authority, the additive is safe to use in a whole range of products, including but not limited to cereal bars, biscuits, pizza, pasta-based products, and whey powder.
Back in August 2021, the European Food Safety Authority concluded that "frozen and dried formulations from whole house crickets" are "safe under the proposed uses and use levels." The officials noted, however, that the insects may trigger allergic reactions in some consumers.
EU regulations state that adult crickets have to first undergo a 24-hour fasting period so that they "discard their bowel content." After that, the insects are frozen, washed, thermally processed, have their oil extracted and ground into powder.
Any foods containing this novel additive will have to bear "appropriate" labels.
On top of crickets, the European Commission also approved earlier this month the larvae of the Alphitobius diaperinus, known as the lesser mealworm, for human consumption.
While part of traditional cuisines in some Asian countries, the use of insects as food is still relatively novel to Europe.
Proponents insist that insects could become a major source of animal protein while reducing humanity's carbon footprint. Insect farms are believed to be much more eco-friendly than traditional animal husbandry. Insects are also being touted as a more affordable alternative to meat.
You can share this story on social media: