Polish diplomat warns Germany amid tank standoff
Berlin must consent to providing Leopard 2 tanks to Kiev, or become isolated and weak, one of Warsaw's top diplomats has said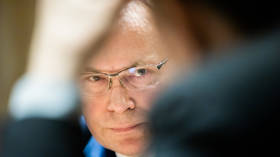 Germany is facing possible "international isolation" unless it agrees to supply tanks to Ukraine, Arkadiusz Mularczyk, Poland's deputy foreign minister, said on Polish Radio on Monday. The issue is wider than just support for Ukraine and is also about US influence, he stated.
Many across the political spectrum in Germany and other EU nations favor the idea of providing heavy armor to Kiev, Mularczyk asserted. He predicted that Berlin's international position would become "very weak" if it continues to demur.
The question is about more than just "victory in Ukraine, but also about the American influence in Europe, and the Germans and French understand it well," the deputy minister added.
Warsaw has been pushing Berlin to allow it and other countries send German-made Leopard 2 main battle tanks to Ukraine. The Polish government wants to supply 14 of the vehicles from its own stocks, and for other nations to chip in too, amounting to as many as 100 Leopards for the Ukrainian army.
German Foreign Minister Annalena Baerbock claimed on Sunday that her government "would not stand in the way" of a possible transfer of tanks by other nations. However, Chancellor Olaf Scholz has dodged questions on the issue, reportedly waiting for the US to provide its own M1 Abrams tanks to Ukraine before considering the transfer of German armor.
Mularczyk called Baerbock's pledge "important" and indicative of the division within the German ruling coalition on the tanks issue. She leads the Greens party, which is more hawkish vis-a-vis Russia than Scholz's Social Democrats.
Warsaw has indicated that it may ignore Germany's opinion. Prime Minister Mateusz Morawiecki has floated the idea of creating a "smaller coalition" of nations to provide tanks to Kiev and branded Berlin's position "unacceptable."
Moscow has accused Western nations of waging a proxy war against it in Ukraine. Russian Foreign Minister Sergey Lavrov has claimed that the US blocked Kiev's attempt to negotiate a peace deal, forcing Ukrainians to fight and die just to inflict more damage on Russia.
By supplying increasingly advanced weapons systems to Ukraine, Western nations are prolonging the conflict while risking further escalation, Russian officials have said.
You can share this story on social media: