Suspect in mass shooting found dead
The gunman reportedly killed himself after officers tracked him down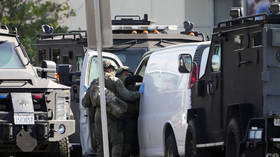 The manhunt for the lone suspect in a deadly shooting in Monterey Park and another attempted attack in Alhambra, California ended on Sunday after members of a SWAT team raided the suspect's van only to find him dead of an apparent self-inflicted gunshot.
The gunman was identified as Huu Can Tran, 72. The authorities are still unsure about what led him to massacre ten people and injure at least ten others during Chinese New Year celebrations.
"I still have questions in my mind, which is: What was the motive for this shooter? Did he have a mental illness? Was he a domestic violence abuser?" Los Angeles County Sheriff Robert Luna told reporters on Sunday.
The tragedy took place on Saturday night, as tens of thousands of people gathered for California's largest two-day festival in the predominantly Asian American community of Monterey Park.
Around 10:20pm, the suspect opened fire inside the Star Ballroom Dance Studio, killing five women and five men, and injuring another 10 people, all reported to be in their 50s or older.
The gunman fled the scene, and less than 30 minutes later attempted to enter another club, the Lai Lai Ballroom in nearby Alhambra. The patrons were lucky enough to disarm him with no casualties, but the attacker managed to escape once again, leading police on an hours-long manhunt.
The suspect's white van was finally located 30 miles away in Torrance at around 10:30am Sunday morning. However, by the time a SWAT team arrived, law enforcement officials at the scene reportedly heard a single gunshot from within the vehicle. The sheriff confirmed that Tran's body was found inside with a self-inflicted gunshot wound.
You can share this story on social media: