Germany issues update on tanks for Ukraine
Berlin will not object if Warsaw supplies Leopards to Kiev, Foreign Minister Annalena Baerbock has said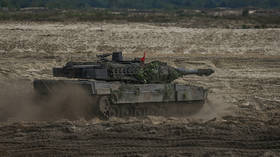 Germany will not block Poland from sending Leopard 2 tanks to Ukraine, Foreign Minister Annalena Baerbock said on Sunday in an interview with French broadcaster LCI.
Asked what Berlin plans to do, should Poland send the tanks from its inventory to Ukraine without German approval, the minister said Berlin would not object but would go ahead and greenlight the move. Baerbock noted that Warsaw has not yet reached out to Berlin on the matter.
"For the moment the question has not been asked, but if we were asked, we would not stand in the way," she stated. "We know how important these tanks are and this is why we are discussing this now with our partners."
Baerbock's words signal an apparent change of heart, as Berlin has been reluctant to supply German-made Leopard 2 tanks to Kiev – and has not authorized other nations to do so. At a meeting of the Ukraine Contact Group on Friday, Germany reiterated its unwillingness to send these types of tanks.
Earlier this month, Berlin explicitly warned countries that operate Leopards that any deliveries of the tanks to Ukraine without German authorization would be "illegal."
This stance angered fellow NATO and EU member Poland. Prime Minister Mateusz Morawiecki threatened to create a "smaller coalition" to facilitate deliveries of the German-made tanks. The PM also urged Berlin not to "weaken or sabotage the activities of other countries."
You can share this story on social media: