NATO nation denies involvement in Crimean Bridge attack
Bulgaria "had nothing to do with the explosion" in Russia, the country's chief prosecutor has claimed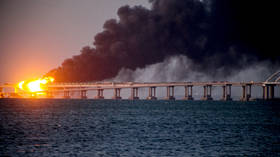 Bulgarian investigators have found no evidence of Sofia being involved in the Crimean Bridge blast last October, Chief Public Prosecutor Ivan Geshev said on Sunday. Moscow, however, has never blamed the country for the attack.
"Colleagues from the Sofia city prosecutor's office have categorically established that Bulgaria had nothing to do with the explosion on the Crimean Bridge. This is another Russian hybrid attack against the European community," Geshev said in a Twitter post.
The Crimean Bridge, which links the formerly Ukrainian peninsula to Russia's mainland, was badly damaged on October 8 in a massive blast that killed three civilians and crippled the structure's road section. The incident was widely celebrated in Ukraine, while the country's postal service even released a stamp to commemorate the blast hours after it took place. However, Kiev has officially denied its involvement.
Senior Bulgarian officials have repeatedly denied any connection to the incident, despite the fact that Moscow has never accused Sofia of having a hand in it. Days after the explosion, Russia's Federal Security Service (FSB) provided its account of what transpired, accusing Ukraine's military intelligence service, known as the GRU, of being behind the explosion.
Bulgaria, as well as several other countries, was only mentioned by the FSB as having been among the transit points for the deadly cargo – disguised as rolls of plastic construction film – which had been shipped from the Ukrainian southern port city of Odessa.
The Crimean Bridge attack, along with several other sabotage attacks on Russian soil attributed to Ukraine, prompted Moscow to change its approach to its military operation in the neighboring country. Shortly after the blast, Russia drastically ramped up strikes against the country's critical infrastructure – particularly energy facilities – and military installations.
You can share this story on social media: