Nancy Pelosi held exorcism after husband's attack – daughter
The former House speaker's spouse is reportedly still not "back to normal" after he was assaulted at home in October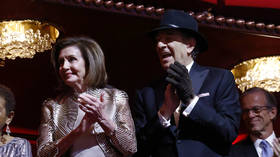 The former speaker of the US House of Representatives, Nancy Pelosi, invited priests into her home to perform an exorcism in November, a month after an attack on her husband Paul, her daughter told the New York Times on Sunday. Alexandra Pelosi explained that her mother felt "really guilty" about the injuries her husband sustained.
The attack "weighed really heavy on her soul," the younger Pelosi said of her mother, suggesting it "really broke" the career politician. "Over Thanksgiving, she had priests coming, trying to have an exorcism of the house and having prayer services."
Paul Pelosi's attacker, Canadian illegal immigrant David DePape, had allegedly been looking for Nancy, who wasn't home, when he found Paul asleep in a bedroom instead. Police stated that the pair were found struggling over a hammer and that DePape assaulted Pelosi with it after officers told him to drop the weapon.
Nancy Pelosi confirmed to CNN's Chris Wallace on Sunday that she felt "very sad" about the assault on her husband, "because [DePape] was searching for me, and my dear husband, who's not even that political, actually, paid the price."
Paul is still not "back to normal" and may not "be really himself" for another three or four months, she continued. The 82-year-old real estate investor suffered a fractured skull and wounds to his right arm and hands during the attack.
DePape allegedly entered the Pelosi home on October 28 hoping to restrain and "interrogate" the Democratic congresswoman, according to a federal affidavit. If DePape thought Pelosi "lied," he planned to break her kneecaps as a warning to her congressional colleagues that there were consequences to their actions, the affidavit claims he told police.
The hammer-wielding vagrant also allegedly told San Francisco Police Sgt. Carla Hurley that he was on a "suicide mission," that there was an "evil in Washington," and that California Governor Gavin Newsom, actor Tom Hanks, and the US president's son Hunter Biden were next on his attack list.
Pelosi announced in December that she would not run for Speaker of the House again, although she continues to represent San Francisco as a Democrat in Congress.
You can share this story on social media: