Senior US border official quits over sex abuse claims – media
Female agents have complained about persistent misconduct on the job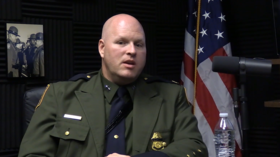 The resignation of the now former director of US Border Patrol's law enforcement directorate last year came as he was accused of pressuring multiple women into sexual favors, NBC News reported on Saturday. The agency is reportedly rife with similar incidents of misconduct.
Tony Barker abruptly left his post in October, after 21 years of service with the agency. His resignation was not the subject of news coverage until NBC reported that he quit due to accusations of sexual misconduct.
Citing anonymous officials with the Department of Homeland Security (DHS) – Border Patrol's parent agency – the network claimed that Barker had a consensual relationship with a subordinate employee, which the woman tried to end. Barker allegedly threatened to tell other employees that she had illegally issued government contracts unless she continued to perform sexual favors for him.
The woman lodged a complaint with her DHS superiors, prompting "multiple" other women to come forward, according to the report. At the time, Barker was also facing an internal inquiry, after officials vetting him for a promotion searched his emails in response to "allegations about [his] interactions with women," according to a New York Times report.
Barker denied any wrongdoing. In a statement to the media, he declared that "the allegations that I pressured any woman for sexual favors or victimized them are entirely and unequivocally false."
His accusers are not the only Border Patrol agents to come forward with claims of abuse. Amanda Cali, an agent based in New York, is currently suing the DHS after she was allegedly sexually assaulted by a co-worker in 2020 and had her complaint ignored by a supervisor. Former agent Amda Budd told the New York Times that she too was sexually assaulted and beaten by a male colleague, but that "high-ranking male officers tend to get away with these crimes."
Documents obtained by the newspaper last year revealed that the DHS' inspector general directed his staff to remove damaging findings on domestic violence and sexual misconduct from reports on DHS-linked law enforcement agencies. Within Border Patrol alone, more than 10,000 employees had reported sexual harassment in the workplace, according to an unpublished 2020 report.
A DHS spokesperson did not confirm or deny the allegations against Barker, saying that while "we do not tolerate misconduct within our ranks," federal privacy laws "prohibit discussion of individual cases."
You can share this story on social media: