Iconic US venue urged to drop facial recognition 'enemies list'
A group of lawyers sued Madison Square Garden for what it claims is discriminatory use of the technology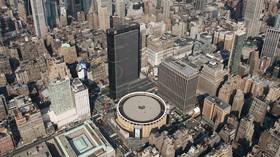 State legislators have called on New York City's Madison Square Garden arena to stop weaponizing facial recognition technology against patrons or risk losing its lucrative $43 million tax abatement. In a letter published last week, they demanded the venue's owner MSG Entertainment "immediately stop the use of this inappropriate technology on fans."
"MSG Entertainment is using facial recognition systems to automate discrimination, violate individuals' privacy, and chill any criticism of the company," the letter reads. "It sets a dangerous precedent to permit MSG Entertainment to maintain such power."
They stopped short of demanding a total moratorium on facial recognition, leaving the door open to safety-related use of the technology. However, MSG, which also operates Radio City Music Hall, must commit to destroying patrons' data as soon as it is no longer needed.
If MSG does not comply, it risks losing not only the $43 million tax abatement, but a special city permit (due to expire this year) allowing Madison Square Garden to seat more than the normal limit of 2,500 people, as well as multiple liquor licenses.
The letter is signed by state senators Brad Hoylman-Sigal, Liz Krueger, Brian Kavanagh, and Kristen Gonzalez, as well as Assembly members Alex Bores and Tony Simone, who claims the venue retracted his own invitation to the National Hockey League's LGBTQ event "Hockey is for Everyone" over his criticism of their facial recognition enemies list. Representatives from the Surveillance Technology Oversight Project and the Policing and Social Justice Project also added their support.
While MSG is open about its policy of excluding lawyers with firms involved in litigation against it from events, several of the lawyers who have been unexpectedly turned away since the policy's adoption in June sued the company in October, alleging discrimination. They cited a little-known law forbidding the owners of theaters and other entertainment venues from blacklisting critics because of bad reviews, personal dislike or other reasons not immediately related to security.
The "enemies list" is clearly designed to discourage lawyers – or anyone else – from taking legal action against MSG, the legal professionals argued. A judge agreed, granting an injunction prohibiting Madison Square Garden from keeping them out. The company has appealed.
You can share this story on social media: