Türkiye cancels visit of NATO hopeful's defense minister
The move comes after an effigy of President Recep Tayyip Erdogan was hung in the Swedish capital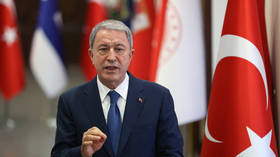 Ankara has called off the planned visit of Swedish Defense Minister Pal Jonson, his Turkish counterpart, Hulusi Akar, revealed on Saturday. The move comes after members of the Kurdish community held an anti-Turkish protest in Stockholm.
"At this point, the visit of Swedish Defense Minister Jonson to Türkiye on January 27 has become neither important, nor meaningful. Therefore, we have canceled the visit," Akar told reporters on Saturday. He added that his country was still "evaluating" how Sweden and Finland were fulfilling their obligations to Türkiye amid their bids to join NATO.
"We expect Sweden and Finland to do their homework," the minister stated.
Jonson tweeted that the ministers "decided … to postpone the planned meeting in Ankara until later."
Last week, Ankara summoned the Swedish ambassador after an effigy of President Recep Tayyip Erdogan was hung upside down on a lamp post in the Swedish capital on January 12. Swedish Foreign Minister Tobias Billstrom condemned the act as "abhorrent."
However, the Swedish authorities rejected Ankara's call for an investigation, saying that the protesters had not violated any laws. The move caused further outrage in Türkiye, which considers Kurdish political and militant groups, such as the Kurdistan Workers' Party (PKK), terrorist organizations.
Relations between Sweden and Türkiye deteriorated further after the Nordic country's police permitted Rasmus Paludan, an anti-Islam activist and leader of a minor far-right Danish party, Stram Kurs (Hard Line), to burn a copy of the Koran near the Turkish Embassy in Stockholm. The police said the act falls under freedom of expression. This prompted the Turkish authorities to summon the Swedish envoy for the second time, local media reported on Friday.
Left-wing Swedish newspaper Flamman launched a competition for the best satirical drawing of Erdogan on Tuesday, with a prize of 10,000 krona ($971). The paper accused the Turkish president of "trying to pressure Sweden to deport Kurds and restrict the freedom of expression."
The spat takes place as Sweden and Finland hope that Ankara will not block their path to become NATO members. Last year, Türkiye greenlighted the start of the accession process in exchange for the two Nordic countries addressing requests to extradite people with suspected ties to the PKK and similar groups.
Türkiye has since accused Sweden of not fulfilling its obligations under the NATO deal, as the country's courts rebuffed some extradition bids.
You can share this story on social media: