US Navy SEAL killed in Ukraine
Washington says the Iraq and Afghanistan veteran was a deserter from the American military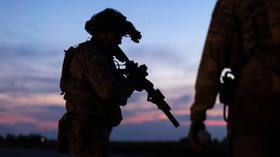 The US Navy confirmed on Friday that a member of its elite SEAL force has been killed in eastern Ukraine, but said that Naval Special Warfare Operator Daniel Swift held "active deserter status."
Swift died on January 18 from injuries sustained in combat with Russian forces, an unnamed US Navy official told reporters in a background briefing.
"We can confirm the recent death of a US citizen fighting in Ukraine," the State Department said in a statement. "We are in touch with his family and providing all possible consular assistance. Out of respect for the privacy of the family during this difficult time, we have nothing further to add."
Swift's service record shows that the Oregon resident enlisted in 2005 and received medals for taking part in the Global War on Terrorism, and the campaigns in both Afghanistan and Iraq, according to Time magazine. He was listed as going absent without leave (AWOL) in March 2019.
The administration of US President Joe Biden has officially discouraged Americans from enlisting in 'foreign legion' formations set up by Kiev. At least eight US citizens who did so anyway have been killed in the fighting over the past year.
Unofficially, US, UK, and other NATO special forces have been active in Ukraine since before the hostilities escalated in February 2022. French media testified to the presence of British and American special operators in April. This was confirmed in December by General Robert Magowan, former commandant of the Royal Marines since promoted to general staff duty. Magowan said the Royal Marines had engaged in "discreet operations" in a "hugely sensitive environment and with a high level of political and military risk."
In August, British media revealed the existence of the 'Mozart Group', an ostensibly private and crowdfunded outfit led by Andrew Milburn, a retired US Marine Corps colonel. Milburn has since inadvertently revealed the Ukrainian army's massive casualties in Donbass and had some choice words for the leadership in Kiev.
Washington maintains that the US is not a party to the conflict, though it has committed billions of dollars in financial aid and military supplies to Ukraine and publicly pledged to support Kiev "for as long as it takes" for Russia to "lose." Moscow has warned the West that sending weapons and "mercenaries" to Ukraine will only prolong the conflict and risks a direct confrontation.
You can share this story on social media: