'Sex cult' leader gets 60 years in prison
Larry Ray preyed on his daughter's college classmates, abusing, torturing and even prostituting his victims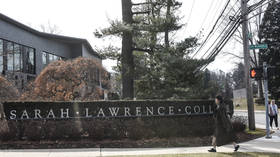 Larry Ray, an ex-con who groomed, abused, brainwashed, and otherwise manipulated his daughter's college roommates into a cult-like subservience for nearly a decade, has been sentenced to 60 years in prison for his crimes, US Attorney for the Southern District of New York, Damian Williams, announced on Friday.
Ray was found guilty in April of racketeering, extortion, sex trafficking, forced labor, tax evasion and money laundering. Calling the convicted predator a "monster," Williams described how he "took control over his victims' minds and bodies and then extracted millions of dollars from them" through a pattern of systematic physical and psychological abuse.
While prosecutors had asked for a life sentence, reasoning that the damage Ray had done to his victims merited it, the prisoner's age, 63, means he will almost certainly die in prison.
Ray met his victims after he moved into his daughter Talia's Sarah Lawrence College dormitory upon his release from prison in 2010. Installing himself as the father figure of the house and charming the young students with colorful tales from his life, he would initiate hours-long philosophical discussions, prying into their minds to find levers he could use to control them.
The older man was soon breaking his acolytes down with tactics common to predatory cults. Turning them against outside friends, family and interests, he forced them to confess nonexistent transgressions against him, claiming they had stolen or broken his possessions, even poisoned him, and that they had to make restitution. They were brainwashed into claiming their own family members were drug dealers who had sexually abused them as children.
They were ordered to plead with their estranged parents for money as if their lives depended on it, made to open and max out credit lines, or pressed into service as literal slave labor doing construction. One woman was forced into prostitution, with Ray using extreme violence to keep her from straying while he made millions of dollars off her body. At least four of Ray's "followers" attempted suicide during his control over them, only for him to further torture them during their "recovery."
Far from expressing remorse, however, Ray complained during sentencing that the three years he'd spent in jail had been "hell," even appearing to choke up at one point as he described his alleged suffering.
You can share this story on social media: