Foreign minister dies after heart attack at cabinet meeting
Gabon's Michael Moussa Adamo was rushed to a military hospital, but to no avail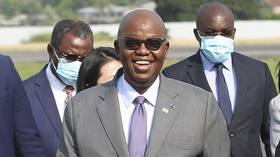 The foreign minister of Gabon died on Friday after suffering a heart attack during a meeting of the country's cabinet. Michael Moussa Adamo, who was a close ally of President Ali Bongo, had previously served as ambassador to the US.
Moussa Adamo "sat down at the start of the cabinet meeting and began to feel unwell," a government source told AFP. The government confirmed that he suffered a heart attack and was rushed to a military hospital, where he died just after midday "despite efforts by specialists" to save his life.
President Bongo mourned Moussa Adamo's death on Twitter, describing him as "a very great diplomat, a true statesman." The foreign minister "was first of all a friend, loyal and faithful, on whom I could always count," Bongo added.
Moussa Adamo, who was 62 years old, had worked with Bongo for over two decades. He was made Bongo's chief of staff when the latter was Gabon's defense minister in 2000, and became special advisor to the president following his election in 2009. Moussa Adamo went on to serve as Gabon's ambassador to the US between 2010 and 2020, defense minister between 2020 and 2022, and foreign minister since last March.
You can share this story on social media: