'Nothing has changed' for Biden regarding 2024 – The Hill
The US president will reportedly soon announce his candidacy to run again next year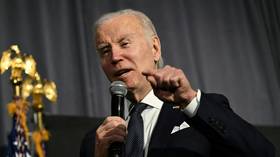 US President Joe Biden remains eager to seek re-election in 2024 despite the scandal over his mishandling of classified papers, with an announcement to be made in the coming weeks, sources have told The Hill.
A person familiar with the planning around Biden's second campaign for office told the outlet on Wednesday that "it's still very much in the works and nothing has changed."
"Multiple sources" said the 80-year-old intends to signal his intention to run for election again next year after the State of the Union address on February 7, with a more formal announcement to be made "closer to the spring," The Hill reported.
In December, a CNBC All-America Economic Survey revealed that 70% of Americans didn't want Biden to run again, mainly due to his age.
The ongoing controversy over the mishandling of classified documents "has done nothing" to change those plans, despite sources telling the outlet that Democrats are concerned the scandal could be damaging.
Several batches of documents, some marked "top secret," from Biden's two terms as vice president between 2009 and 2017 were found at his office at the Penn Biden Center, a Washington think tank, and at his Delaware home, including in the garage.
The discoveries were made in November and January, but were only acknowledged by the White House earlier this month. A special counsel was appointed last week to look into the mishandling of the documents by the president.
One strategist told The Hill that "it's the kind of thing that can consume a lot of oxygen. You think it doesn't seem like that big of a deal, and maybe it isn't, but it ends up overtaking much of the campaign."
Sources said Biden will spend the coming weeks speaking about his economic achievements, slowing inflation and growing jobs numbers, in an attempt to shift the focus away from the documents scandal.
You can share this story on social media: