Church of England makes decision on gay marriage
Bishops refuse to allow clergy to marry same-sex couples, but propose an alternative solution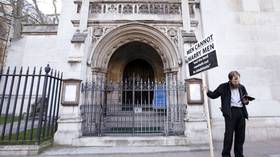 The Church of England has rejected demands to alter its doctrine of holy matrimony, which states that marriage can only be performed between a man and a woman, and has refused to allow clergy to conduct same-sex marriages.
In a proposal published on the church's website on Wednesday, bishops instead suggested that they could allow the blessing of gay unions in which couples had been married in a civil ceremony. They stressed, however, that this service would be voluntary for clergy members, and those theologically opposed could freely opt out.
"For the first time, people in same-sex [civil] marriages, in civil partnerships, can come to the church for their relationships to be acknowledged, dedicated, and they can receive God's blessing," explained Archbishop of York Stephen Cottrell in an interview with BBC Radio 4. He added that this was "a real step forward" and "something really important," noting that it was "not the end of the journey."
The archbishop admitted, however, that the move is "not everything that everybody wants" and is likely to frustrate activists who claim the church's stance on gay marriage causes immense harm to the LGBTQ community.
Meanwhile, Justin Welby, the archbishop of Canterbury, noted that the bishops' decision reflects the "diversity of views in the Church of England on questions of sexuality, relationships and marriage" but acknowledged that the proposal may cause controversy.
"I am under no illusions that what we are proposing today will appear to go too far for some and not nearly far enough for others, but it is my hope that what we have agreed will be received in a spirit of generosity, seeking the common good," Welby said.
The church also said bishops plan to issue a formal apology to LGBTQ people later this week for the "rejection, exclusion and hostility" they have felt from within the church.
The proposal comes after bishops conducted a series of meetings in recent months to discuss the question of same-sex marriage – a topic of heated debate within the church over the past five years. The Church of England's governing body, the General Synod, is expected to discuss the proposals in further detail and possibly rule on their adoption during its next meeting in early February.
You can share this story on social media: