US anti-Russia bill 'totally unwarranted' – South African FM
The legislation targeting Moscow's alleged malign operations on the continent should be scrapped, senior diplomat has said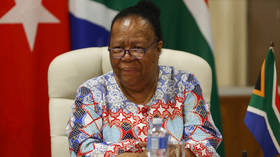 The US should scrap its "Countering Malign Russian Activities in Africa" bill because the legislation is at odds with international law, South African Foreign Minister Naledi Pandor said on Wednesday.
In an interview with news outlet Sputnik, Pandor stated that Washington's bill "should really be killed" because "it's totally unwarranted." "I think it's an intrusion that goes against international law," she noted, adding that South African officials have made this clear to their US counterparts.
"We even met with the drafter of the initial legislation and indicated the offense which we view with this particular proposed piece of legislation," she said.
Pandor also vowed that South Africa would continue "to advocate for that bill to be torn up and not to proceed in any form or state."
She also noted that the legislation had not been approved yet and is scheduled for debate in the US Senate. The bill was first introduced to the House of Representatives in late March and was passed a month later by a huge bipartisan majority.
Should the bill be signed into law, the US would have to "regularly assess the scale and scope" of Russia's activities in Africa that undermine Washington's objectives and interests. It would also require the US "to hold accountable" through sanctions or other restrictions, Russian and African governments and officials "who are complicit in aiding such malign influence and activities."
South Africa has already voiced concerns about the proposed legislation. In September, President Cyril Ramaphosa warned that Africans should not be "punished" for their historic non-aligned position amid the Ukraine conflict. "I think it will harm Africa and marginalize the continent," he said at the time.
The bill has created ripples not only in South Africa but also through neighboring nations. In August, the Southern African Development Community (SADC), which incorporates 16 regional countries, said that the law would make the continent "the target of unilateral and punitive measures."
Since the escalation of the Ukraine conflict last February, South Africa has refused to join Western sanctions against Russia, with Ramaphosa arguing in late May that the restrictions would hurt "bystander countries."
You can share this story on social media: