Snowden mocks claim he lived in 'KGB safehouse'
The Insider says it spread a "rumor" about the NSA whistleblower by "mistake"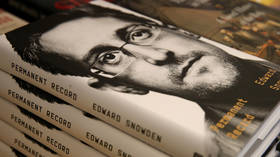 Edward Snowden has lampooned the idea that he once lived in a KGB safehouse in Moscow. The claim was mistakenly made by western-backed Russian investigative outlet, The Insider, as a result of what it said was a translation error.
The feature story about safehouses purportedly used by Soviet and Russian special services was published on Tuesday. The English-language version was headlined: "Putin's daughters, Anna Chapman and Edward Snowden: The high-profile tenants of KGB and SVR safehouses."
Despite his prominence in the teaser, the American fugitive who blew the whistle on the NSA's mass electronic surveillance program barely featured in the story. A single sentence mentioned a rumor that he had once been "hiding" at a particular address. He was described as a "defector" who "faces a 30-year prison sentence in the United States."
Snowden reacted to the claim on Wednesday, tweeting that it was a lie and branding The Insider "knuckleheads." Since becoming the focus of news, he added, he had abandoned the notion that media could be relied on to mostly report facts accurately.
Today, an "anti-fake news" outlet (@InsiderEng) falsely claimed that I lived in a KGB safehouse. They even know which floor I'm on! What a scoop!The problem? It's a lie. I don't cooperate with spies or live in a safe house, much less 𝘯𝘦𝘹𝘵 𝘵𝘰 𝘵𝘩𝘦 𝘜𝘒 𝘌𝘮𝘣𝘢𝘴𝘴𝘺! 🤦 pic.twitter.com/rXbRbzpF2J

— Edward Snowden (@Snowden) January 17, 2023
The outlet responded to the tweet to disclaim responsibility for making the assertion, stating that they had merely reported a rumor. The original Russian version hadn't used his name in the headline, The Insider said, so it was "a stupid mistake of a translator that is now corrected." It apparently failed to contact Snowden before publishing the story.
The article has since been amended to change the headline and mention the denial by the "defector."
"In any real newspaper, stating or implying that a public figure was A) a defector, or living in an honest-to-God KGB safehouse would be considered 'important,' and would require evidence," Snowden responded. "You did both, you did it without evidence, and you got it wrong. And didn't apologize."
Snowden became stranded in Russia in 2013, when the US government revoked his passport as he was flying from Hong Kong to Latin America via Moscow. He then applied for and was granted political asylum in Russia, and later attained Russian citizenship. Some of his critics claimed that he was working for Russian intelligence from the start, based on this connection.
The Insider is a Latvia-registered online investigative outlet similar to the better-known Bellingcat in its editorial stance. It reportedly operates on foreign grants. The Russian Justice Ministry labeled it a foreign agent in 2021.
You can share this story on social media: