Kissinger changes his position on Ukraine
The 99-year-old former US diplomat now endorses Kiev's NATO membership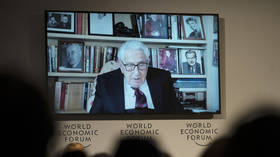 The concept of Ukraine's neutrality is "no longer meaningful" given the circumstances, Henry Kissinger told the World Economic Forum in Davos on Tuesday. He endorsed Kiev's eventual membership of the US-led military bloc, but continued to insist on dialogue with Russia – a stance that earned him a spot on the notorious Ukrainian "kill list."
Kissinger, now 99, was the US secretary of state (1973-1977) and national security advisor (1969-1975), playing a major role in the talks to end the Vietnam War, as well as the policy of pitting China against the Soviet Union during the Cold War.
At last year's Davos gathering, in May, he advocated an urgent end to hostilities in Ukraine, lest Russia is "driven into a permanent alliance with China." For daring to suggest that Moscow could keep Crimea – which rejoined Russia in 2014 – he was placed on the "Peacemaker" list of Ukraine's enemies, however.
On Tuesday, he prefaced his remarks with "admiration" for Ukrainian leader Vladimir Zelensky and the "heroic conduct of the Ukrainian people," before proposing essentially the same peace deal as last year.
"Before this war, I was opposed to the membership of Ukraine in NATO, because I feared it would start exactly the process that we have seen," Kissinger said. "Now that this process has reached this level, the idea of a neutral Ukraine under these conditions is no longer meaningful."
I believe Ukrainian membership in NATO would be [an] appropriate outcome.
In Kissinger's view, the way to prevent the conflict from escalating is to do exactly what Kiev, the US and its allies have been doing so far: demand a Russian withdrawal, while giving Ukraine military and financial aid and maintaining "sanctions and other pressures" on Moscow.
Russia should be given an "opening" to rejoin the West, "if it meets the required conditions to participate as a member in these European processes," the elderly diplomat argued. It is important, he said, to avoid the perception that the conflict has become "against Russia itself," which may cause Russians to re-evaluate both their historic "attraction to the culture of Europe and a fear of domination by Europe."
Kissinger also said that the US-led military alliance ought to be the guarantor of the final peace settlement "in whatever forms NATO can develop."
While his proposal flattered the Western perception that Ukraine was winning on the battlefield with the help of NATO weapons, Kissinger chose to ignore the agency of both Kiev and Moscow. Zelensky has categorically rejected any sort of ceasefire unless Russia capitulates, while the Kremlin is on the record that any deal must concede that Donetsk, Lugansk, Kherson, and Zaporozhye are parts of Russia – with Crimea being off the table altogether.
It was also unclear whether Moscow would accept any Western-mediated negotiations at all, after former German Chancellor Angela Merkel's admission – later echoed by French ex-president Francois Hollande – that the 2014 Minsk armistice was not arranged in good faith, but intended to "give Ukraine time" to prepare for war.
You can share this story on social media: