Greta Thunberg arrested in Germany (VIDEO)
Police hauled the Swedish climate activist away from a coal mine demonstration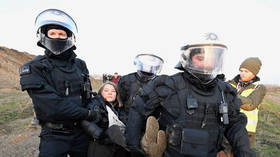 The Swedish climate activist Greta Thunberg was arrested in western Germany on Tuesday. Reporters captured the moment Thunberg was carried away by riot police officers, during a protest against the expansion of a coal mine in Luetzerath, North Rhine-Westphalia.
Located between Aachen and Düsseldorf, the village is currently scheduled for relocation in order to expand the nearby Garzweiler lignite mine.
A police spokesperson in nearby Aachen told the media that Thunberg was part of a group of protesters that "stormed" the perimeter of the mine and approached the edge of the dig, described by the authorities as "steep and extremely dangerous."
In photographs and videos that quickly circulated on social media, four officers of NR-W police can be seen carrying Thunberg by her arms and legs for a short distance. She is smiling, as protesters chant "you are not alone" – in English – and the media record and take pictures.
Officers eventually let Thunberg down and led her away. "We know who she is," they told reporters when asked why they hadn't followed procedure and written down her personal information.
Greta #Thunberg nahe #Luetzerath: Festnahme an der Abbruchkante. Ihre Personalien nimmt die Polizei, anders als bei den übrigen 100 Akivisten, nicht auf: "Wir wissen ja, wer sie ist." Ob sie diese Erfahrung schon anderswo gemacht habe? Sie schweigt mit einem Lächeln im Mundwinkel pic.twitter.com/nmDA9O2H1U

— Christian Wernicke (@ChrisCWE) January 17, 2023
Police told Sky News that this was the second time this week Thunberg has been detained as part of the Luetzerath protest. She arrived in the area on Friday and joined the German activists on Saturday to "resist" the authorities' plans for the village. Some of the activists have taken to squatting in the buildings from which local residents have already been evicted.
More than 1,000 police are currently involved in attempting to evict the squatters from Luetzerath, so the village can be demolished to make room for the mine, owned by the Essen-based multinational energy company RWE.
Climate activists claim that coal mining will increase carbon emissions and interfere with the Paris Climate Agreement plan to limit global warming. RWE has argued that they can offset the emissions through European carbon caps. The Green party, currently part of the German ruling coalition, has backed the company's position.
Having renounced natural gas imports from Russia over the conflict in Ukraine, Germany has moved to expand coal production and delayed the closure of nuclear power plants. Thunberg has encouraged the latter measure as preferable to burning coal, although she had previously denounced atomic energy.
Thunberg, now 20, garnered international fame for refusing to go to school on Fridays in the name of protesting climate change.
You can share this story on social media: