Far-right activists on trial over Macron assassination plot
The defendants allegedly conspired to commit a series of terrorist attacks, including targeting the French president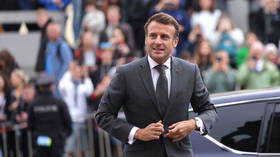 Thirteen people said to be affiliated with the extreme right-wing group 'Les Barjols' ('The Crazies'), which allegedly conspired to kill French President Emmanuel Macron, were put on trial in a Paris court on Tuesday.
The defendants – 11 men and two women between the ages of 22 and 66 – have been charged with conspiring to commit an act of terrorism, which carries a maximum sentence of ten years in prison. The trial is scheduled to conclude on February 3.
The court hearings come after a four year-long investigation into the group, which is said to have been plotting assorted acts of violence, including attacks on mosques, migrants, and even the assassination of Macron at a public event commemorating the World War I armistice, according to the indictment. None of these alleged plans ever came to fruition, and some of the charges initially brought up against the suspects were dropped during the investigation.
"It is established that the projects of violent action conceived by the members of the Barjols group … were aimed exclusively at seriously disturbing public order through intimidation or terror," the indictment read.
The ultra-right Barjols group originally emerged on Facebook back in 2017 and its alleged leader, Denis Collinet, was arrested in 2020. One of the suspects, Jean-Pierre Bouyer, who was 62 at the time, appeared on the radar of law enforcement after France's domestic intelligence services received a tip-off about a potential attack on Macron.
Bouyer was arrested in November 2018 during a meeting with three close associates. A bulletproof vest and a 'commando'-style knife were seized. During additional searches, French police officers also seized firearms and ammunition from Bouyer's home.
While Bouyer initially admitted to the police that he had wanted to "kill Macron," implying one of the accomplices would have stabbed the president at the event, he later said the discussions had been mere talk. "He admits that there were such discussions, but they never went any further," Bouyer's lawyer, Olivia Ronen, told AFP.
All in all, the defendants' legal team maintains that the prosecution's case was based "on the fiction that a violent act was going to happen," according to lawyer Lucile Collot, who insists that the allegations of a real terrorist plot are "misplaced."
You can share this story on social media: