Big Pharma lobbied to censor calls for affordable Covid-19 vaccines – Twitter files
Drugmakers sought to quash a campaign to waive patents for poor nations, internal documents reportedly show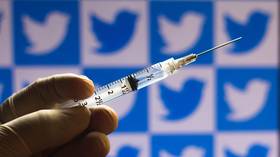 Western biotech firms pressured Twitter to censor calls for sharing their Covid-19 vaccine patents and producing low-cost generic treatments, according to a new tranche of Twitter files. The companies also funded a nonprofit that created tools to fight misinformation, but declined to flag misleading claims by Big Pharma.
The lobbying efforts by companies including BioNTech, Pfizer and Moderna were detailed on Monday by Lee Fang at The Intercept, based on internal Twitter communications.
Fang reports that in December 2020, Nina Morschhaeuser, a lobbyist for Twitter in Europe, shared with colleagues a warning she received from the firm BioNTech and the German government about a campaign that could violate Twitter's terms of service.
5. That brings us to Twitter. The global lobbying blitz includes direct pressure on social media. BioNTech, which developed Pfizer's vaccine, reached out to Twitter to request that Twitter directly censor users tweeting at them to ask for generic low cost vaccines. pic.twitter.com/6cVIRcUDZV

— Lee Fang (@lhfang) January 16, 2023
The campaign advocated making Covid vaccines more accessible to poorer nations by relinquishing patent protection. Morschhaeuser forwarded a request from BioNTech to "hide" posts by activists targeting the drugmaker's account. It's not clear what action Twitter took, if any.
Similarly with Public Good Projects, an NGO that created tools to identify and report alleged misinformation about public health, including the effects of the Covid-19 pandemic. Its Stronger campaign got $1,275,000 in funding from biotech firms, according to tax returns which Fang reviewed.
CEO Joe Smyser described the work as a good-faith effort to remove false information online. But The Intercept investigation found some of the tweets that were flagged as problematic by the NGO were legitimate policy debate, such as criticisms of vaccine passports.
13. Notably, this massive push to censor and label covid misinfo never applied to drug companies. When big pharma wildly exaggerated the risks of creating low-cost generic covid vaccines, Stronger did nothing. The rules applied only to critics of industry. https://t.co/FTzQsGKM9i

— Lee Fang (@lhfang) January 16, 2023
The Stronger campaign didn't target apparent misinformation that was beneficial to its funders, such as a November 2022 claim by the industry group PhRMA that 4.4 million US jobs could be threatened by waiving vaccine patent protections. Smyser responded that his job was to encourage people to get a vaccine.
Big Pharma made billions of dollars in Covid-19 vaccine profits. Its attempts to "stifle digital dissent during a pandemic, when tweets and emails are some of the only forms of protest available to those locked in their homes, is deeply sinister," Nick Dearden, director of Global Justice Now, told The Intercept.
When discussing in December 2020 how vaccine equity activists could engage in "spammy behavior," Holger Kersting, a Twitter spokesperson in Germany, pointed to three posts that he said potentially violated terms of service. Two of them came from Terry Brough, a now 74-year-old retired British bricklayer.
He laughed off the high-profile attention, telling Fang that while he was "no Che Guevara," he prided himself on being "an activist, a trade unionist, and a socialist" and wished he could do more.
The story marks Fang's second contribution to the Twitter Files, a series of reports by several journalists, who were offered access to the platform's documents by Elon Musk after he bought the company.
You can share this story on social media: