US city urged to pay each black resident $5 million
A reparations committee in San Francisco has recommended huge cash payouts and debt forgiveness to correct "racial disparities"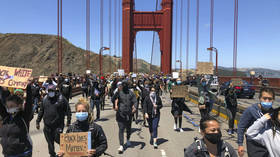 Black San Franciscans who are longtime residents of the Golden Gate City could receive a financial windfall, including a $5 million lump-sum payment, under a reparations committee's proposed blueprints for righting racial sins of the past.
The San Francisco African American Reparations Advisory Committee recommended immediate payouts to each eligible black resident in the draft report for a plan that's scheduled to be submitted to Mayor London Breed and other city leaders in June. The government-appointed panel, which was formed in 2021, also called for paying off all the debts of black residents.
Though California wasn't a slave state, the committee argued that reparations are justified and necessary to address "the public policies explicitly created to subjugate black people in San Francisco by upholding and expanding the intent and legacy of chattel slavery."
To be eligible for reparations, applicants must be at least 18 years old and have identified as black on public documents for at least a decade. Beneficiaries also must have resided in the city for at least 13 years, unless they can meet other criteria, such as being a descendant of someone who was enslaved in the US before 1865, or having been incarcerated "by the failed War on Drugs."
Despite having their debts paid off and receiving $5 million, qualifying residents also would be guaranteed to receive at least the median income of San Francisco-area households (AMI) – currently $97,000 – for at least 250 years.
"By elevating income to match AMI, black people can better afford housing and achieve a better quality of life," the draft report said. Beneficiaries would also need to be provided special housing benefits, whether they choose to rent or buy their home, the committee said.
San Francisco currently has more than 46,000 black residents, according to US Census Bureau data. It's not clear how many would qualify for reparations, or how the program could be funded. A separate, statewide reparations task force has recommended payouts of more than $223,000 per qualifying black resident.
Meanwhile, Democrats in the US House of Representatives have proposed forming a federal committee to study reparations for black Americans. Congresswoman Sheila Jackson Lee of Texas has said her bill "represents the reckoning of the awful sin of slavery."

Chattel slavery in North America predated the creation of the United States, and was finally abolished by Congress in 1865.
You can share this story on social media: