Biden botches 'Happy Birthday' at MLK event
The US president appeared to forget the name of Martin Luther King Jr.'s daughter-in-law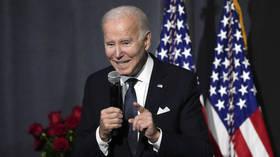 US President Joe Biden attempted to sing "Happy Birthday" to the daughter-in-law of civil rights icon Martin Luther King, Jr. on Monday– but couldn't recall her name as he stood in front of a crowd at an event honoring the black leader.
Standing in front of a microphone, Biden was unable to fake knowing Arndrea Waters King's name when he appeared to draw a blank halfway through serenading her, so he called her something that sounded like "Violet" instead.
"Well, it's hell turning 30, but you have to put up with it," the president told the audience at the event, hosted by activist Al Sharpton's National Action Network. Waters King was celebrating her 49th birthday.
Biden followed up the music and comedy routine with what was meant to be a speech honoring King, veering off into attacks on the opposition party, whom he called "fiscally demented." He also laid into police officers and gun owners, arguing the latter would require F-15s rather than AR-15s in order to take on the US government.
Biden is infamous for his public gaffes, which have grown more frequent with age and more difficult to write off as a mere stutter. In September, he appeared to forget both that Rep. Jackie Walorski (R-Indiana) had died and that he had publicly mourned her passing, asking the Republican congresswoman's family "Where's Jackie?" in full view of the public. Biden later apologized to the family, but not before White House Press Secretary Karine Jean-Pierre tried repeatedly to dismiss his behavior as normal.
On the campaign trail in 2020, he forgot former president Barack Obama's name despite spending much of the election season reminding the American electorate that he had been the first black president's VP, finally settling for "President My-Boss." His mangling of the Declaration of Independence ("All men and women are created by the, you know, you know the thing") remains a running joke among his detractors.
At 80, Biden is the oldest-ever president of the US, and his tendency to forget people, places, and things has left even members of his own party concerned he is suffering from dementia or some other cognitive issue. A poll conducted last month found 57% of Democrats – as well as 66% of independents and 86% of Republicans – did not want him to run for re-election in 2024. However, Biden has dismissed such concerns and recently revealed he intends to run for a second term.
You can share this story on social media: