US schools hide awards from students
Virginia's governor has blasted educators for focusing so much on "equity" that top pupils don't get credit for their achievements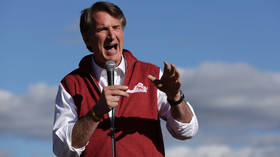 Virginia Governor Glenn Youngkin has rebuked educators for their "maniacal" emphasis on equity ideology after seven high schools in the state declined to inform top students that they had won national merit awards.
"They have a maniacal focus on equal outcomes for all students at all costs," Youngkin said in an interview with WJLA-TV in Washington, DC. "And at the heart of the American dream is excelling, is advancing, is stretching and recognizing that we have students that have different capabilities."
National merit awards are given as part of a US scholarship competition designed to recognize and reward the nation's top high school students. About 1.6 million students enter the competition each year when they take the PSAT college-entrance exam. Only 0.5% of high school seniors qualify as national merit award semifinalists. About half of those receive merit scholarships, ranging as high as $2,500.
Students who weren't informed of their merit awards weren't able to compete for college scholarships. A few of the schools that kept the awards secret reportedly informed their winners belatedly but, by then, deadlines for college scholarship entries had passed.
"We need to get to the bottom of what appears to be an egregious, deliberate attempt to disadvantage high-performing students . . .," Youngkin said in a statement last week. "Parents and students deserve answers." He added that Attorney General Jason Miyares will investigate the matter because some families may have suffered material harm.
The governor launched an investigation into Virginia schools last week and called for a probe into how public education dollars are being spent. Fairfax Public Schools, a district in suburban Washington, last month launched an initiative to provide "equal outcomes for every student, without exceptions."
Youngkin has condemned such programs, saying, "Some students have the ability to perform at one level, others need more help, and we have to allow students to run as fast as they can to dream the biggest dreams they can possibly dream and then go get them."
You can share this story on social media: