German FM says 'hole' in law protects Russia
Annalena Baerbock wants rules changed so the West can judge Moscow for Ukraine "aggression"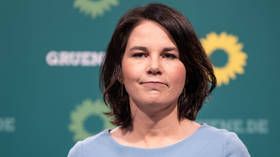 There is a gap in international law that currently doesn't allow the West to prosecute Russia for "aggression" against Ukraine, so a "new format" is needed, German Foreign Minister Annalena Baerbock said on Monday. She made the comments in a speech to the International Criminal Court (ICC) in The Hague, while visiting the Netherlands.
"We talked about working with Ukraine and our partners on the idea of setting up a special tribunal for crimes of aggression against Ukraine," Baerbock said, according to the state broadcaster DW.
Such a body would be based on Ukrainian law, but could include international elements "at a location outside Ukraine, with financial support from partners and with international prosecutors and judges, so that impartiality and legitimacy are guaranteed."
Baerbock said she had discussed the idea with her Ukrainian counterpart Dmitry Kuleba last week, describing the proposal as "not ideal, not even for me," but saying it was necessary "because international law currently has a hole in it."
Elaborating on Baerbock's speech, the German Foreign Ministry later tweeted that international law "has an accountability gap with regard to the crime of aggression." They called for modifying the Rome Statute – the treaty that established the ICC – to allow prosecution of aggression when only the victim state falls under the court's jurisdiction.
While the ICC can try to investigate and prosecute alleged atrocities in Ukraine, neither Moscow nor Kiev have ever ratified the Rome Statute to recognize its jurisdiction. Ukraine has since given "special dispensation" to the ICC to prosecute war crimes on its territory, per DW.
The government in Kiev has called for putting the Russian leadership on trial for war crimes as one of the preconditions for any peace talks. Moscow has dismissed such demands as "nonsense" and said that any such tribunal would be entirely illegitimate,
The ICC was modeled after the ad-hoc tribunal for war crimes in the former Yugoslavia (ICTY), which relied on NATO countries to fund its investigations and trials, and enforce its verdicts. In 2002, before the Rome Statute went into effect, the US Congress passed a law prohibiting any Americans from cooperating with the ICC or extradition of US citizens for trial there. The American Service-Members' Protection Act (also known as The Hague Invasion Act), also authorized "all means necessary and appropriate" to release any detained Americans – or their allies – from the ICC.

You can share this story on social media: