CIA director made secret trip to Kiev prior to Ukraine conflict – media
Bill Burns reportedly warned Ukraine's President Vladimir Zelensky that he might be assassinated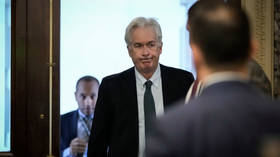 CIA chief Bill Burns reportedly made a secret visit to Ukraine in January 2022, a month before Russia's offensive against Kiev started, and told President Vladimir Zelensky that Moscow was plotting to assassinate him.
The clandestine meeting between Burns and Zelensky came to light in a soon-to-be-released book by author Chris Whipple on Joe Biden's presidency, Business Insider reported on Monday. The trip came at a time when the Ukrainian president was publicly dismissive of US claims that Russia was poised to attack Kiev and was arguing that the warnings were creating "panic."
"Burns had come to give him a reality check," Whipple wrote in his book, 'The Fight of His Life: Inside Joe Biden's White House'. Biden had instructed the US spy chief to "share precise details of the Russian plots."
While Zelensky had been reluctant to believe US intelligence assessments of a likely Russian offensive, he was immediately "sobered" and "taken aback" by the claim that he personally might be targeted. As it turned out, the assassination claim was apparently false, inasmuch as there have been no confirmed Russian attempts to kill Zelensky. Russian forces presumably had ample opportunities to take shots at the Ukrainian leader, especially as he ventured out of hiding increasingly, visiting such locales as Bucha and the front-line city of Bakhmut.
Whipple claimed that US intelligence was so detailed that it helped Ukrainian security forces foil two Russian attempts to assassinate Zelensky. Kremlin press secretary Dmitry Peskov denied media reports in April that Moscow wanted the Ukrainian president dead, adding that regime change wasn't among the goals of Russia's military operation.
Burns, who served as US ambassador to Russia from 2005 to 2008, also provided Zelensky with details of the plans for Russia's military offensive, according to Whipple's book. The author didn't identify his sources, saying his interviews were done on condition of anonymity.
While Biden's administration has tried to take credit for its warnings about the conflict, US intelligence agencies haven't been altogether accurate in their Ukraine assessments. For example, they reportedly told the White House that Russia would overwhelm and defeat Ukrainian forces within a few days. The CIA's plan was to support an insurgency against Russian occupiers.
You can share this story on social media: