Russia blasts France over Orthodox cemetery move
French authorities are waging "war on the dead" by refusing to work with Moscow on a major Russian cemetery, Foreign Ministry believes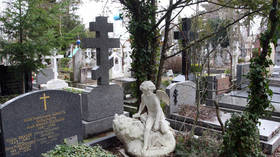 The decision to suspend cooperation with Russia on an Orthodox cemetery in Paris over the ongoing conflict in Ukraine, and to refuse payments for expiring tomb concessions, are examples of "blatant inhuman immorality," Russian Foreign Ministry spokesperson Maria Zakharova has said.
The Sainte-Genevieve-des-Bois Russian Cemetery, established in the late 1920s and located in the southern suburbs of the capital, houses the tombs of many emigrants who fled west from their country following the 1917 Bolshevik revolution and the civil war that ensued.
The decision, undertaken by the authorities of the commune, was brought to light in a report by Le Monde over the weekend. According to the report, multiple tombs at the necropolis, housing more than 5,000 Orthodox graves, have already been marked with warning notices that their concessions have expired.
"Paris, giving in to the herd mentality, joined the war on the dead? The authorities do not risk touching mass graves of soldiers of the Red Army on the territory of France yet, fearing the wrath of the enlightened French, who still honor the memory of the Resistance and [Charles] de Gaulle," Zakharova said in a statement, adding that unlike France, Russia honors any French graves on its territory, whether they be those of Napoleon-era soldiers or fighters of the Soviet-French Normandie-Niemen fighter squadron.
"Those in France who are pursuing a Russophobic course want to capitalize on the fancy cancellation of everything Russian, while only innocent Orthodox eight-pointed grave crosses of the Russian white emigration would suffer," Zakharova added, branding the move a display of "blatant inhuman immorality."
Earlier in the day, the Russian embassy in France voiced its concerns over the cemetery's fate, noting however, that the local city hall had said that the payments issue has been put on hold, while the potential demolition of the graves was not on the table.
"We consider it categorically unacceptable that political games in the West, in the context of the Ukrainian crisis, take such unsightly forms, jeopardizing the safety of the graves of long-deceased Russians," the embassy said in a statement, urging local authorities to defuse the situation.
You can share this story on social media: