Chemical plant destroyed in explosion (VIDEOS)
An unknown number of people were wounded in a blast that leveled the petrochemical facility in China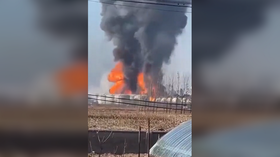 A powerful explosion rocked a chemical plant in the Chinese city of Panjin on Sunday, China Daily reported. Videos shared on social media have captured the extent of the devastation.
The blast occurred as maintenance was being carried out on an alkylation facility at the Panjin Haoye Chemical Company early Sunday afternoon. Alkylation is a process by which high-octane motor fuel is refined from lower-quality oil byproducts.
Emergency workers were dispatched to the scene, and an unknown number of wounded were taken to the hospital, the Chinese news outlet said.
Videos of the blast site were shared on social media. They show a large section of the plant reduced to rubble, with smoke and flames towering over the ruined facility.
According to its website, the Panjin Haoye Chemical Company makes automobile fuel, solvents, domestic gas, sulfur, and methanol, as well as other chemical products. It employs around 600 people and has an annual turnover of $2.6 billion.
Situated in the coastal province of Liaoning, Panjin is home to several large-scale petrochemical plants, including a $10 billion refinery currently under construction by Saudi Aramco and two Chinese firms.
You can share this story on social media: