Bodyguards of German governor suspended over extremism – media
The pair who had access to confidential data allegedly shared content trivializing National Socialism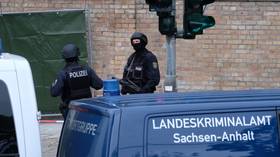 Two German police officers who had guarded Saxony-Anhalt's governor, Reiner Haseloff, for 12 years were recently suspended due to alleged links with far-right groups, local news outlet MDR reported on Friday.
The pair were accused of sharing anti-constitutional and right-wing extremist messages, including content trivializing National Socialism. The Ministry of the Interior revealed on Friday that the messages were discovered "by evaluating another person's mobile phone" in the course of a police investigation into suspected extremist officials in the security forces of neighboring Mecklenburg-Western Pomerania.
Since their suspension last month, the two men have been placed under criminal investigation for extremism and forbidden from conducting official business within the State Criminal Police Office (LKA). Disciplinary proceedings were also initiated against them for allegedly violating their duty of loyalty to the constitution, though the latter have been paused until the criminal probes conclude.
Two other Saxony-Anhalt LKA officers are facing similar charges, as well as criminal and disciplinary probes, though they were not involved in guarding senior politicians and were transferred to office duty rather than suspended.
The German parliament was only informed of the situation on Thursday, and MPs in the Greens and Die Linke parties demanded "comprehensive clarification" of what exactly the bodyguards of a state premier had gotten up to while they had privileged access not only to Haseloff but to confidential information and special weapons. Die Linke MP Henriette Quade pointed out that "when right-wing extremists work in places that are supposed to identify and combat threats, it's an incredible scandal and devastating for those affected and those who need protection."
However, the Ministry of the Interior reassured on Saturday that no politicians under the suspended officers' protection were ever in danger, adding that there was no evidence the four had actually been active in extremist chat groups or belonged to what he referred to as the "prepper scene."
MDR's report from the previous day, though, had said exactly that – that the group in which the disgraced officers shared their extremist content was itself affiliated with a radical organization.
You can share this story on social media: