China reports record number of Covid-19 deaths
New data has been published after the World Health Organization criticized the country for undercounting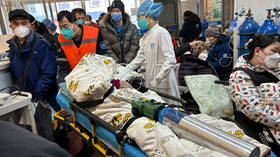 China has confirmed far more Covid-19 deaths than ever before, reporting that nearly 60,000 people have died from the virus in the past five weeks. Beijing acknowledged that the new death toll is likely not complete.
There were 59,938 Covid-linked deaths in China from December 8 through January 12, the National Health Commission (NHC) announced on Saturday. Of that total, 5,503 people died from respiratory failure, caused directly by the virus, while 54,435 succumbed while suffering from both Covid-19 and underlying ailments. All of the reported deaths occurred in hospitals, meaning the figures did not include possibly significant numbers of people who died at home or elsewhere.
Chinese officials had come under criticism for a lack of transparency about a surge in Covid-19 cases that reportedly overwhelmed hospitals and crematoriums in recent weeks. The World Health Organization (WHO), for instance, claimed earlier this week that Beijing was drastically underreporting deaths from the virus.
The NHC claimed on Saturday that its reporting criteria are now in line with those used by the WHO and major countries. The 5,503 direct Covid-19 deaths reported for the past five weeks exceeds the cumulative total of 5,272 that Beijing had previously announced since the virus was first detected in the central city of Wuhan in late 2019. Over 90% of the 59,938 Covid-linked deaths occurred in people with underlying ailments, such as cancer or heart disease, and the average victim was 80.3 years old.
The "emergency peak" of China's Covid-19 surge appears to have passed, the NHC said. There were 105,000 critically ill Covid-19 patients in hospitals as of January 12, down 18% from a week earlier. Traffic also has slowed at fever clinics and emergency rooms. Outpatient clinics have "basically" returned to pre-surge levels of traffic, NHC official Jiao Yahui told reporters on Saturday.
Prior to the latest announcement from Beijing, the WHO had pegged China's cumulative Covid-19 deaths at 33,698, or just one per 322 infections. The new figures would push the death toll to 93,636. By comparison, the US, which has less than one-fourth as many people as China, has reported nearly 1.09 million Covid-19 deaths.
You can share this story on social media: