Santa Claus toys stuffed with cocaine stopped in New York
A Queens man is accused of sneaking bricks of the drug into the US hidden in plush Christmas toys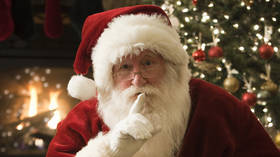 Queens resident Adderly Santos Familia has been released on bail after federal prosecutors accused him of trying to sneak nearly 9kg of cocaine into the US hidden in a bunch of plush Santa Claus toys. Familia was nabbed during a Customs and Border Protection (CBP) screening at New York City's JFK Airport last month, the New York Post reported on Saturday.
Familia, who flew in from Punta Cana in the Dominican Republic, claimed he had been visiting relatives there. The Santa toys were from his children, he reportedly insisted, as officers ripped them open to discover the drugs inside.
More cocaine was found in Familia's neck pillow and in the lining of his suitcase, with the total value of the seized drugs between $260,000 and $1 million, according to estimates by the UN's Office on Drugs and Crime.
He has been charged with importation of cocaine and possession of cocaine with intent to distribute, crimes that can carry up to a life sentence in prison plus $10 million in fines. However, he was released on $100,000 bond the day after his arrest.
In November, another would-be smuggler flying into JFK from the Dominican Republic attempted to hide $450,000 worth of cocaine in the wheels of her wheelchair. Her plan was foiled when Customs and Border Protection officers noticed the chair's wheels were not turning normally and decided to put it through the baggage x-ray.
You can share this story on social media: