Total number of recovered Biden docs revealed – CBS
Around 20 classified materials were retrieved from the US president's former office and home, a report says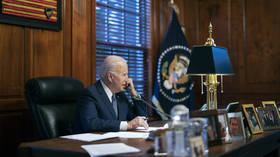 Approximately 20 classified documents, including top-secret materials, have been recovered from US President Joe Biden's former office and home, CBS News reported on Friday, citing a federal law enforcement official familiar with the investigation. The report comes as the president is being investigated for potentially mishandling government records.
Roughly ten classified documents were discovered at the office of the Penn Biden Center for Diplomacy and Global Engagement in Washington, DC, an official was quoted as saying, adding that some were marked 'top secret', which is the highest of the three levels of classification. A leak of such data could cause "exceptionally grave damage," according to the report.
A second batch of fewer than ten classified documents was said to have been retrieved from Biden's home in Wilmington, Delaware. None of them were marked 'top secret', the official was quoted as saying.
The first trove of documents from the time Biden served as vice president between 2009 and 2017 was initially found by his aides in November, but the discovery only became public this month. Government records are considered the property of the American people and must be stored at the National Archives.
Attorney General Merrick Garland appointed lawyer Robert Hur on Thursday to serve as a special counsel tasked with investigating the possible mishandling of secret documents by Biden. The president said he was "surprised" by the discovery but denied any wrongdoing. "People know I take classified documents and classified materials seriously," he told reporters on Thursday.
The controversy unfolded as former President Donald Trump is also being investigated by a special counsel, Jack Smith, for possibly breaking the law on handling records. In August, FBI agents raided Trump's Mar-a-Lago residence in Florida, recovering a trove of classified materials. Trump denied any wrongdoing.
You can share this story on social media: