UK schools ban all physical contact
Teens will be forbidden from hugging and holding hands in order to keep them "safe," school authorities said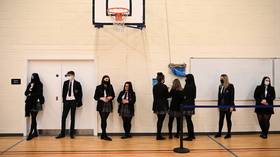 Two British schools announced this week that they would ban all forms of physical contact between students – forbidding "hand-holding," "hugging," and the forming of romantic relationships. Parents complained to local media, but one school argued that "anything could happen" if children were allowed to socialize normally.
Hylands School in Chelmsford and Southchurch High School in Southend both made the announcements this week.
In a letter to parents, Hylands assistant headteacher Catherine McMillan said that her school would no longer "tolerate any physical contact within our community," EssexLive reported on Tuesday.
This includes "any aggressive physical contact, hugging, holding hands, slapping someone, etc," McMillan continued. "This is in order to keep your child safe. If your child is touching somebody else, whether they are consenting or not, anything could happen. It could lead to an injury, make someone feel very uncomfortable, or someone being touched inappropriately."
The deputy head specifically pointed out that "romantic relationships" would be forbidden at Hyland School, and any breach of the new rules would result in "a loss of privileges" for the offending child.
In a similar letter to parents, Southchurch deputy head Ms. Murray said that "students are not allowed to touch each other whilst on site," the BBC reported. A school spokesman claimed that the ban encourages "students to behave in a courteous and considerate way at all times."
Speaking to EssexLive, one Hyland parent described the policy as "draconian."
"I have a daughter and her and her friends greet each other with a hug, but if they do that now they'll [face being] put into isolation," the parent said. "There has been a huge outcry from other parents. After the pandemic, where everyone was starved of human contact, you are now setting everything back. It's not going to help students' mental health either."
You can share this story on social media: