'ISIS Beatle' vanishes from US prison records
The London-born jihadi is serving a life sentence for kidnapping, torturing and murdering four Americans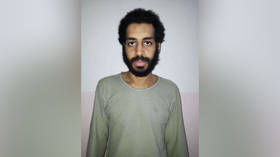 Convicted terrorist Alexanda Kotey, a member of the infamous Islamic State (formerly ISIS/ISIL) terror group cell dubbed 'The Beatles' for its members' British origins, has disappeared from the US Federal Bureau of Prisons database, Fox News reported on Thursday.
Kotey was serving a life sentence at the Canaan high-security prison in Pennsylvania, having been sentenced in April after pleading guilty to eight counts of hostage-taking and terrorism-related crimes resulting in death.
The native Londoner nicknamed 'Jihadi George' was accused of participating with his fellow 'ISIS Beatles' in the "seizure, detention and hostage negotiations" of four Americans and 23 others between 2012 and 2015.
However, Kotey was no longer listed as an inmate at Canaan, with records showing he was "not in BOP custody" as of Friday. Perhaps more troublingly, given his crimes, the terrorist's release date was listed as "unknown."
Confirming that Kotey was "not currently in the custody of the Bureau of Prisons," spokesperson Randilee Giamusso offered "several" potential reasons for the discrepancy in a statement to Fox News.
"Inmates who were previously in BOP custody and who have not completed their sentence may be outside BOP custody for a period of time for court hearings, medical treatment or for other reasons," he said, adding that the bureau does not share that kind of detail on inmates for reasons of safety, security and privacy.
Bethany Haines, whose father David Haines was captured by Kotey and subsequently tortured and beheaded by the 'Beatles,' expressed concern that the prisoner might have "managed to negotiate his way into [some] kind of easy treatment on the basis of him assisting authorities or anything else," calling his disappearance unfair to his victims' families.
However, she told The Scottish Daily Record that Justice Department sources had reassured her Kotey was still under lock and key somewhere in the US.
While Fox News referenced rumors Kotey was assisting with investigations into another case, the outlet could not substantiate such claims. The other 'ISIS Beatles' are all either dead or in custody, and Kotey has been imprisoned in the US since his extradition from the UK in late 2020.
You can share this story on social media: